Cost Effective Solutions to Soil Retention system for deep excavation of Slope Stability Problems Though Investigations, Design & Construction
We provide complete solution for soil retention systems & slope stability by carrying out investigations to assess the geology and determine the strength parameters, analyse to assess safety, design appropriate measures for stabilizing the slopes, and implement the solution. Our slope stability measures include the following:
SOIL NAILING – GROUTED NAILS & DRIVEN NAILS/SELF  DRILLING NAILS
Used to stabilize existing slopes or to support excavations. Closely spaced steel reinforcement (nails) is driven or grouted in drilled holes in the slope or are installed in excavated sides of deep excavations as excavation progresses. In a properly designed soil nailed structure, the mobilization of nail resistance increases soil resistance to shear.  Shotcrete with wire mesh to stop erosion and improve aesthetics and drainage arrangements are normally provided.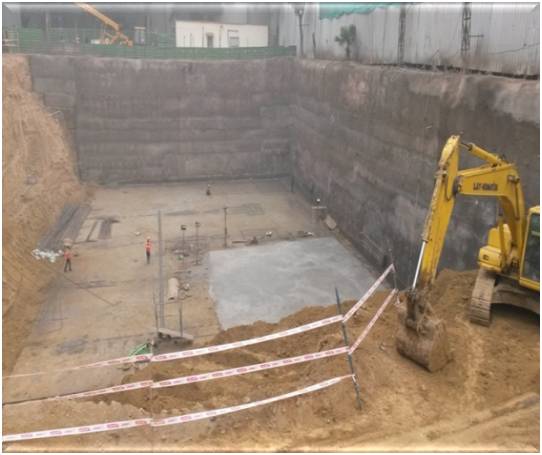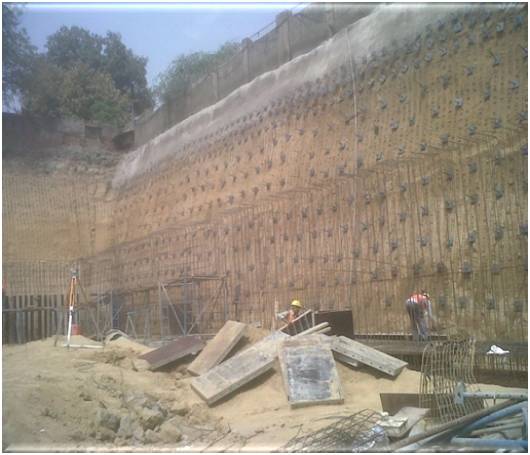 EARTH RETENTION SYSTEM – CONTIGUOUS PILE & SOLDIER PILES/H PILES
Soldier piles & lagging walls, H-Piles, Contiguous or Secant piles, Contiguous Bored Piles with or without soil Anchors are used as soil retention system for deep excavations.
H PILES
H-Piles are dimensionally square structural beams that are driven in the ground for deep foundation applications. Most soils at or near surface do not have the mechanical properties to support large buildings. As you go deeper into the earth's geology, there are layers (bearing strata) capable of doing so. H-Piles are transfer structural loads to these good bearing soils.
                                                      
CONTIGUOUS PILE
Typically this technique is suitable to retain stiff and cohesive subsoils and where ground water levels are below the eventual depth of excavation.
                                            
GROUTED/DRIVEN ANCHORS
Common supporting element in design and construction of an in-situ structure capable of transmitting an applied tensile force to the bearing stratum such as soil or rock.
DIAPHRAGM WALL
A diaphragm wall creates a barrier that provides strong soil and hydraulic support to control and protect the surrounding environment against settlement and water drawdown. The wall is either self-standing or can be temporarily or permanently supported by other means as required.
                                                              
ROCK BOLTING/ANCHORING/HILL SLOPE PROTECTION
Rock bolt is a steel bolt inserted into and anchored in a hole drilled in rock mass to prevent subsidence or caving of rood of a tunnel or cavern.
HEALTH, SAFETY, ENVIRONMENT & TRAINING (HSET)
AECS management provides the support and resources necessary to ensure that effective health, safety, environment, and training (HSET) objectives are fully implemented for each project we participate in.